GEPSAM 500mg / 5ml Injectable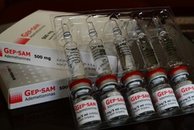 21/05/2015
Information for the user
GEPSAM 500 mg/ 5 ml powder and solvent for solution for injection
Ademetionine
Read all of this leaflet carefully before you start taking this medicine because it contains
important information for you.
- Keep this leaflet. You may need to read it again.
- If you have any further questions, ask your doctor or pharmacist.
- This medicine has been prescribed for you only. Do not pass it on to others. It may harm
them, even if their signs of illness are the same as yours.
- If you get any side effects, talk to your doctor or pharmacist. This includes any possible side
effects not listed in this leaflet.
What is in this leaflet?
1. What GEPSAM is and what it is used for
2. What you need to know before you take GEPSAM
3. How to take GEPSAM
4. Possible side effects
5. How to store GEPSAM
6. Contents of the pack and other information
1. What GEPSAM is and what it is used for
The active substance of GEPSAM is ademetionine.
GEPSAM is used for the treatment of intrahepatic cholestasis (a condition where bile
cannot flow from the liver) in adults. GEPSAM is also used for the treatment of
intrahepatic cholestasis in pregnant women.
2. What you need to know before you take GEPSAM
Do not use GEPSAM:
- if you are allergic to ademetionine or any of the other ingredients of this medicine (listed in
section 6).
- if you have a genetic disease, which disturbs the methionine cycle, or a genetic disease, which
increases or decreases the amount of amino acid homocysteine in the body. If you are not sure
if you have such disease, consult your doctor.
Warnings and precautions
Talk to your doctor or pharmacist before taking GEPSAM
If you have vitamin B12 and folic acid deficiency (it often occurs due to liver disease,
pregnancy, other diseases or nutrition habits), you should have regular blood tests to check
the amount of ademetionine in your blood.
The medicine should be used in special caution if you or any of your close family have or
have had in the past a bipolar disorder (a mental disease which symptoms are extreme
mood swings, with periods of excitement or euphoria alternating with periods of
depression [deep sadness or despair]).
Thoughts of suicide and worsening of your depression or anxiety disorders
If you are depressed and/or have anxiety disorders you can sometimes have thoughts of
harming or killing yourself. These may be increased when first starting antidepressants,
since these medicines all take time to work, usually about two weeks but sometimes
longer.
You may be more likely to think like this:
- if you have previously had thoughts about killing or harming yourself.
- if you are a young adult. Information from clinical trials has shown an increased risk of
suicidal behaviour in adults aged less than 25 years with psychiatric conditions who were
treated with an antidepressant.
If you have thoughts of harming or killing yourself at any time, contact your doctor or go
to a hospital straight away.
You may find it helpful to tell a relatives or close friends that you are depressed or have
an anxiety disorder, and ask them to read this leaflet. You might ask them to tell you if
they think your depression or anxiety is getting worse, or if they are worried about changes
in your behaviour.
Other medicines and GEPSAM
Tell your doctor or pharmacist if you are taking, have recently taken or might take any
other medicines.
The special caution should be taken if you are taking:
- medicines for depression, called monoaminooxidase inhibitors. It is not recommended to
take GEPSAM and these medicines at the same time or earlier than 2 weeks after stopping
monoaminooxidase inhibitors.
- other medicines to treat depression ( selective serotonin reabsorption inhibitors, tricyclic
antidepressants);
- tramadol, pentazocine (medicines for pain);
- medicines or food supplements containing tryptophan (amino acid);
- St John's worth preparations;
Pregnancy and breast-feeding
If you are pregnant or breast-feeding, think you may be pregnant or are planning to have a
baby, ask your doctor or pharmacist for advice before taking this medicine.
During pregnancy you can take GEPSAM only if your doctor has told you to.
Breast-feeding should be discontinued during treatment of GEPSAM.
Driving and using machines
Some patients felt dizzy while taking ademetionine. If you are having similar symptoms,
do not drive or use machines.
3. How to take GEPSAM
Always use this medicine exactly as your doctor or pharmacist has told you. Check with
your doctor or pharmacist if you are not sure.
The recommended daily dose for adults is 5 to 12 mg ademetionine per kilogram of body
weight. The doctor will decide what dose is suitable for you depending on the severity of
your disease and your body weight. Your doctor or nurse will inject the medicine into your
muscle or vein. The usual duration of treatment is 2 weeks.
If it is necessary to continue the treatment after the first 2 weeks, it is recommended to take
oral dosage form of this medicine.
If you have any further questions on the use of this medicine, ask your doctor or
pharmacist.
4. Possible side effects
Like all medicines, this medicine can cause side effects, although not everybody gets them.
The most common side effects are nausea, abdominal pain and diarrhoea.
Rarely, and only in susceptible people, GEPSAM can cause disturbance of sleep-wake
regimen. In such case, your doctor may prescribe you sleeping pills.
During the treatment with GEPSAM you can sometime have suicidal thoughts or suicidal
behaviour (see section "Warnings and precautions").
Other side effects (their frequency is unknown):
- flatulence (gas),
- dry mouth,
- loss of appetite,
- indigestion,
- inflammation of the esophagus,
- bleeding from gastrointestinal tract,
- vomiting,
- constipation,
- urinary tract infection,
- serious systemic allergic (anaphylactic) reaction,
- confusion,
- mania,
- sleeplessness,
- anxiety,
- nervousness,
- dizziness,
- headache,
- tingling sensation in fingers and toes,
- heart function disorders,
- redness of the face and neck,
- inflammation of veins close to the surface of the body,
- laryngeal oedema (swelling),
- cramp-like pains in the upper abdomen,
- liver cirrhosis,
- increased sweating,
- itching,
- skin reactions at the injection site (very rarely - skin necrosis),
- rash,
- angioedema (condition which results in wheezing, swelling of face or tongue, severe itching
or skin rash),
- joint pain,
- muscle cramps,
- general physical and mental weakness,
- trembling,
- flu,
- swelling of the limbs,
- fever.
If you suspect that you get side effect to the medicine, tell to your doctor, pharmacist or
other health care or pharmacy specialist or to the State Medicine Control Agency by e-mail
or other ways as indicated on its website www.vvkt.lt.
5. How to store GEPSAM
Keep this medicine out of the sight and reach of children.
Do not store above 25°C.
It is estimated that prepared solution stored below 25°C is physically and chemically stable
for 6 hours.
From a microbiological point of view, the product should be used immediately. If it not
used immediately, the user is responsible for the storage duration and conditions. Solution
should be stored at 2-8° C not longer than 24 hours, unless it was prepared under aseptic,
controlled and validated conditions.
Do not use this medicine after the expiry date which is stated on the carton and vial after
"EXP". The expiry date refers to the last day of that month.
Do not throw away any medicines via wastewater or household waste. Ask your
pharmacist how to throw away medicines you no longer use. These measures will help
protect the environment.
6. Contents of the pack and other information
What GEPSAM contains
- The active substance is ademetionine. Each vial contains 500 mg ademetionine ( sterile Sadenosyl-
L-methionine 1,4-butandisulfonate lyophilized).
- The excipients of solvent are water, L-lysine, sodium hydroxide.
What GEPSAM looks like and contents of the pack
Powder is white or almost white in colour.
Solvent is clear colourless solution.
GEPSAM powder for solution for injection is in a colourless glass vial, closed by
pierceable chlorobutyl stopper sealed with a plastic/aluminium flip-off cap. Solvent is in
the clear glass ampoule.
The carton box contains 5 vials and 5 ampoules.
Marketing Authorisation Holder and Manufacturer
Marketing authorisation holder
UAB "Vigifarma"
Birželio 23 str. 2-1,
LT-50425 Kaunas, Lithuania